This is a unique home in many respects, although no great discoveries, techniques or systems are involved, many projects around the world use them to make more logical home, cheap, liveable, sustainable and ecological ones. They are sometimes called bioclimatic housing.
In the constructive part, all begins with a minor clearing of the land, building space to generate a negative part of the facilities improving the heat transfer of subground areas. The hole in the ground which will be used for the basement, a explanade access and foundation. From level zero, main house and garden reference, there is a entire work in dry, with the dramatic improvement in execution times, accuracy, control and security. With ventilated roof and facades, we are setting a constructive frame of a structure with many layers bioclimatic collaborating.
If we turn to discuss the housing space, we created a habitat associated with the light, the south facade of the interior, with its large glass surface, shows areas of use as a space together with views of the garden, and other retractable wide areas in other directions, generating a continuous feeling of space.
Rooms with variables uses and intentional and specific areas of communication to isolate/combine rooms satisfying our needs, give a flexibility to each of these surfaces.
As a study, estudiAR concern is always to use all the technology to optimize energy and minimize the natural footprint of the building, both in its construction and throughout its life. This is designed to accommodate a multitude of systems and facilities to ensure that their energy and resources consumption is minimal. Thermal and photovoltaic solar panels, geothermal heat exchanger, boiler pellets purification greywater, rainwater storage. All these facilities contribute greatly to this goal. This energy is used to condition the habitat in days of extreme temperatures and can be used to run various systems throughout the house.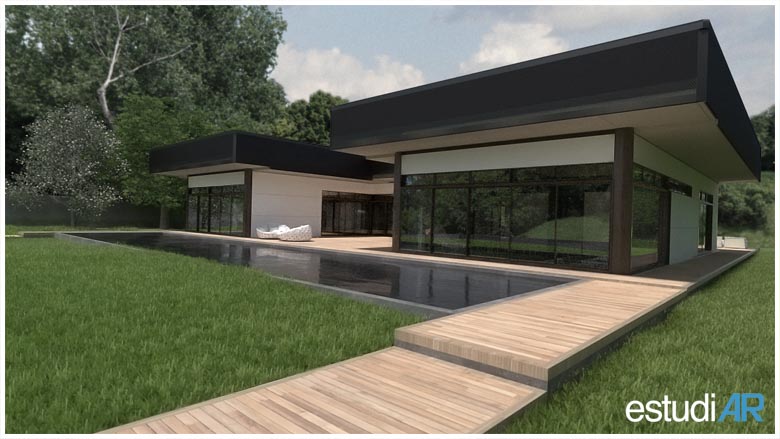 Furthermore, the typology of the house, facing South, with wide eaves and holes north and west-up, with large glazed areas practicable, we are able to generate heated stay thanks to the greenhouse effect in the cold season and through cross-ventilation on top of high ceilings, stays cool and ventilated without sensation of air flowing in summer.